COLORADO, USA — FORECAST BY: Meteorologist Danielle Grant
THIS EVENING AT A GLANCE: It was another day of wild winds across much of Eastern Colorado. Tonight, we'll watch the winds relax just a bit under partly cloudy skies.
Look for partly sunny skies and mild temperatures on Monday. Daytime highs will warm into the low to mid 60s around the I-25 corridor. The next storm will start pushing into the Western Slope and Colorado's High Country late Monday night.
A Winter Storm Watch is in effect Monday night to Wednesday morning for areas above 9,000 feet west of the Continental Divide. So far, it looks like snowfall accumulation will be between 6 and 14 inches of new snow by Wednesday morning. Unfortunately, blustery winds will charge across the mountains along with the heavy snow. Gusts will be up to 65 mph at times, causing low to no visibility at times.
The cold front will sneak into the Denver metro area by Tuesday early afternoon, dropping temperatures and bringing some rain to the city. That precipitation will likely switch over to snow overnight into Wednesday morning around parts of the metro area. It looks like less than a slushy inch or so of snow. So far, highs will only climb into the lower 40s Wednesday before the storm rolls out. Stay tuned for more details as the system gets closer to Colorado.
Mild, breezy Monday; mountain snow Tuesday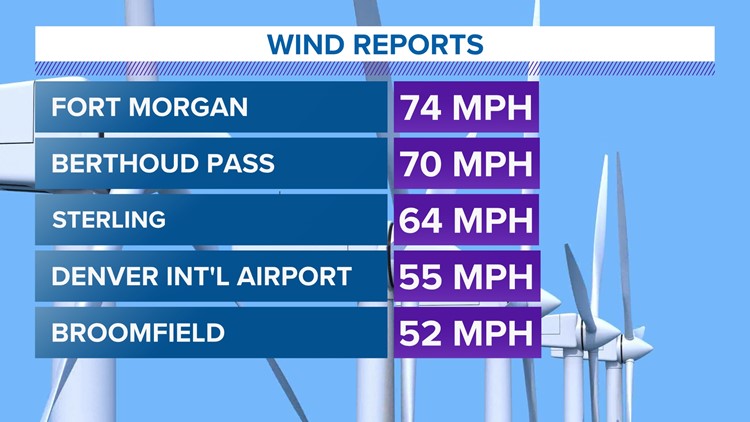 Tonight: Partly cloudy and breezy overnight, low 30.
Monday: Partly cloudy and windy at times, high 64; partly cloudy overnight, low 30.
Tuesday: Mostly cloudy with a chance for rain in the afternoon/evening, high around 60; cloudy with rain or snow overnight, low around 21.
Wednesday: Mostly cloudy and chilly with morning rain/snow showers, high 40; gradual clearing overnight, low 22.
Thursday: Partly cloudy and still windy, high 55; partly cloudy overnight, low 32.
Friday: Mostly sunny and breezy, high 65; partly cloudy overnight, low 34.
Saturday: Partly sunny with increasing afternoon clouds and possible rain/snow showers late, high 60; chance of rain/snow showers overnight, low 29.
Sunday: Happy Easter! Mostly cloudy and cooler with possible morning rain/snow showers, high 50; chance of rain/snow showers overnight, low 26.
WEATHER LINE 9: Updated weather info at 303-871-1492.
WEATHER LINE 9: Updated weather forecast information at 303-871-1492.
If you have a weather report, photo or video to share, you can contact the 9NEWS Weather Team in these ways:
The 9NEWS Weather team of Kathy Sabine, Danielle Grant, Cory Reppenhagen, Keely Chalmers, Ed Greene and Chris Bianchi update the Denver weather forecast multiple times each day. Bookmark this link to always have the latest forecast from 9NEWS. The team values your local weather reports and often features your photos and videos during weather segments in all newscasts.